---
The Wayne Township Fire & EMS Department is a volunteer department. The members volunteer a tremendous amount of their time to the township. We are proud to have these dedicated folks working for us. We all will continue to do our best for our township residents.
THANK YOU for your continued support!
Mission Statement
The Wayne Township Fire Department & Emergency Medical Services will proudly and continuously protect life, property and the environment from fire, medical emergencies, natural disasters and other emergencies for those who live, work and travel through Wayne Township and the surrounding areas with competent, professional and honest members.
Goal
Our goal is to provide professional, prompt and efficient response to fire, medical and other emergencies with trained personnel and state-of-the-art equipment.
Department Information
The Wayne Township Fire Department and EMS provides fire protection services and EMS services to Wayne Township and participates in mutual aid agreements with other townships and other counties. We have provided services to Butler County, Preble County and Warren County. In addition to its fire responsibilities, the department provides rescue and general emergency services.
Our fire department was organized in 1948 as a volunteer fire department. The term "volunteer" refers to the fact that each member volunteers to come when called. The fire department is controlled by the Wayne Township Board of Trustees who appoint a Fire Chief to manage both the fire department and emergency medical services. The Fire Chief is authorized by the Township Trustees to appoint officers to assist in the management of emergency operations and Township owned equipment. The size of our department is currently set at 26 members. The individual members are the most important part of the department and without their services we would not have a volunteer department.
---
Incident Report/Information Request
There is a $5 fee for every Incident Report Requested.
Checks Made Payable to "Wayne Township Fire Department"
To request a copy of an Incident Report, please contact Dominic Bruno via email: [email protected]
or requests can be mailed directly to:
Wayne Township Fire Dept.
4574 Oxford Middletown Road
Trenton, OH 45067
Phone: 513-217-0055
---
Our Volunteer Firefighters & Squad Members
Communities served by volunteer departments depend on them to be their first line of defense for many types of emergencies. These emergencies include fire, emergency medical incidents, terrorist events, natural disasters, hazardous materials incidents, water rescue emergencies and other general public service calls.
Emergencies involve more than fires and vehicle accidents, they include cave-ins, building collapses, motor vehicle accidents, aircraft crashes, tornadoes, hazardous materials incidents, civil disturbances, rescue operations, explosions, water incidents and medical emergencies. The emergency medical list is unlimited.
Our volunteers invest a large amount of time serving our communities. These time commitments include operational responses, training, fund-raising, maintenance and administrative duties. Volunteering in the fire and EMS service is one of the most demanding and time-consuming volunteer activities today.
Recruiting New Members:
The Wayne Township Fire Department and EMS is currently seeking new members! We're looking for firefighters and EMT's. The department provides all of your equipment and training.
If interested in becoming a member, please contact Doug Hoit or Cindy Phillips at the fire station at 513-217-0055.
Fire & EMS Employment Application
---
Department Members
| | | |
| --- | --- | --- |
| MEMBER | TITLE | CERTIFICATION |
| Doug Hoit | Chief 120 | Firefighter |
| Ed Truster | Assist. Chief 121 | Firefighter |
| Daniel Hoit | Capt 121 | Firefighter/EMR |
| Cindy Phillips | Capt 123 | Paramedic |
| Chris Lewis | Lt 121 | Firefighter |
| Rory O'Connor | Lt 122 | Firefighter/EMT |
| Courtney Wells | Lt 123 & Training Officer | Firefighter/Paramedic/Instructor/AHA BLS & ACLS |
| Dominic Bruno | Lt 124 | Firefighter/Paramedic/Inspector/BCTR |
| Phil Dent | | Firefighter |
| Mike Burke | | Firefighter |
| Brandon Hoit | | Firefighter |
| Jason Knollman | | Firefighter/Paramedic/Inspector/BCTR/Instructor |
| Scott McCoy | | Firefighter/Inspector |
| Mike Smallwood | | Firefighter |
| Lainey Phillips | | EMT |
| Aaron Foley | | Firefighter/EMT |
| Cameron Bartlett | | Firefighter |
| Sara Bouley | | Firefighter |
| Cody Truster | | Mechanic |
| Larry Phillips | | Firefighter |
February 2022
WTFD Cold Water/Ice Training
Wayne Township Fire Department trains in Cold Water/Ice Rescue. WTFD is continuing to better serve our residents by adding cold water/Ice rescue to our services. Wayne Township was able to purchase the special equipment with the help from the Cox Foundation Grant received in 2021.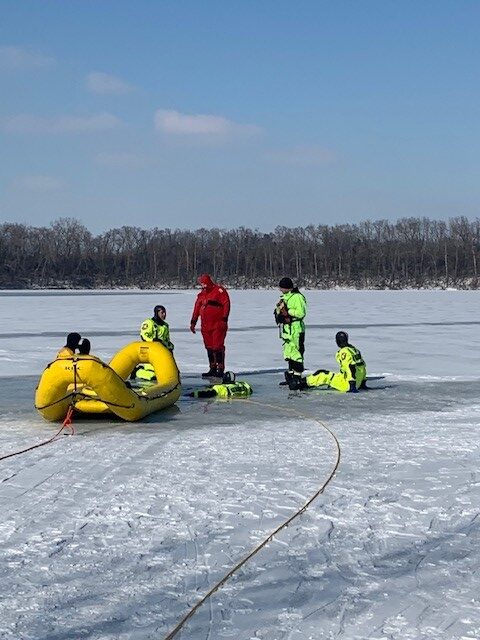 May 25, 2021
Wayne Township Fire Department Awarded Cox Foundation Grant
The Wayne Township Fire Department has received a $37,000 grant from the James M. Cox Foundation.
The Foundation presented Chief Douglas Hoit with the award to be able to purchase vital equipment for First Responders. Wayne Township Fire Department plans to purchase new structural firefighting turnout gear for firefighters and vehicle Stabilization tools to be used during Motor Vehicle Accidents.
Born in 1870 in Jacksonburg, Ohio, James Middleton worked in the fields of their family's farm located directly behind the Wayne Township Fire Department. Throughout his life Cox loved the outdoors, saying that "Life and hard work in the open had given me health, agility and endurance."
From Newspaper Entrepreneur to Governor of Ohio, James M. Cox kept true to his humble upbringing and never forgot where he came from.
The Wayne Township Fire Department is proud to be housed on the very land once worked and owned by James M. Cox. Staying true to his belief of hard work, the Wayne Township Fire Department strives to continue to serve the residents of Wayne Township with highest regards and top of the line equipment. James M. Cox believed strongly in giving back to the communities they serve. One way to ensure that his values remain present is through the James M. Cox Foundation. The foundation provides philanthropic support for nonprofit organizations in communities where Cox Enterprises does business